Revolutionize Your Sound: Harness the Magic of Voice Cloning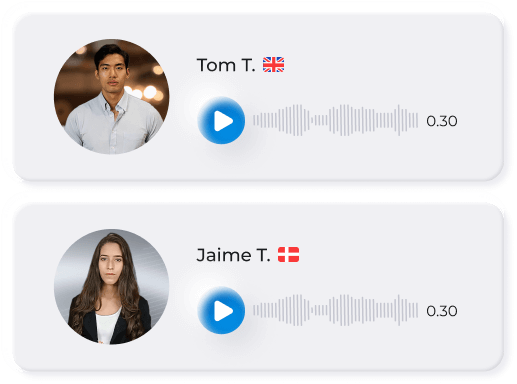 Unleash the Cutting-Edge Advancement in Audio Technology: Revolutionize Your Audio Experience with the Limitless Potential of Voice Cloning, Generating Realistic and Highly Customizable Voices for Any Application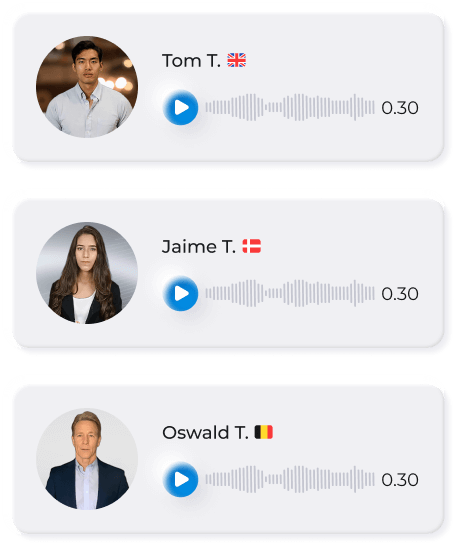 Why clone your voice with AI in the first place?
There are huge benefits of cloning your voice artificially, no matter what kind of business or brand you're trying to enhance.
No More Voice Recording: Save Time and Money
If you've ever had to work with a professional recording studio before, you'll be all too aware of just how costly and time-consuming the process is. From having to find the space itself to make sure everybody involved is free to participate, it can be a logistical nightmare, not to mention the potential cost of delaying your business while you work with the recording professionals.
By cloning your voice with AI, you'll be able to reuse your own voice again and again as much as you need to, not just saving you time and money in the short term but leading to a long-term recapture of revenue and time that will pay dividends for as long as you're creating content for your business.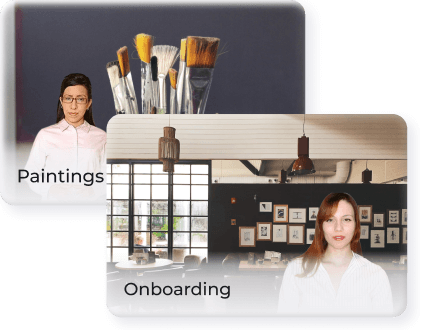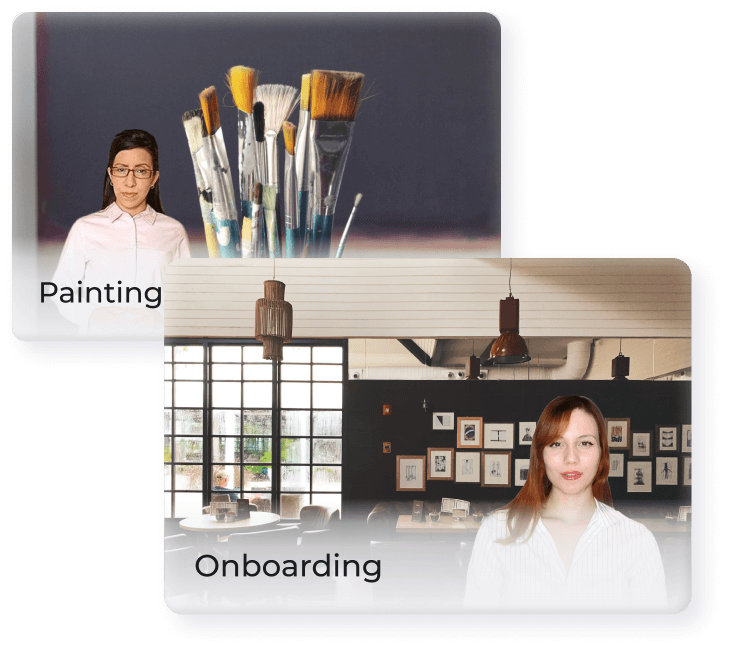 Build Better Connections with Your Customers
In the current, hyper-saturated world of business, it's more important than ever to capture your audience's attention and ensure they remember your brand as quickly and as impactfully as possible. But that's not always straightforward, especially when every potential customer has to contend with dozens of different businesses and brands, every one of whom is vying for their attention.
By enhancing your marketing collateral with an ultra-realistic cloned version of your voice, you'll be ensuring that your customers' first impression of your business will be a warm and memorable one, making it that much more likely they'll return to you. It's all about forging relationships at the end of the day, and AI voice cloning is a powerful way to do just that.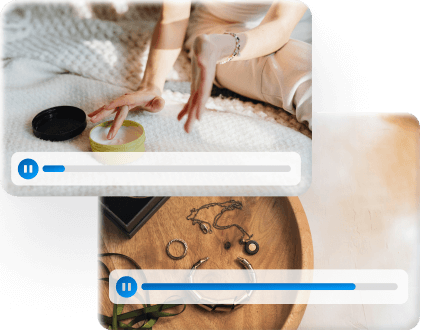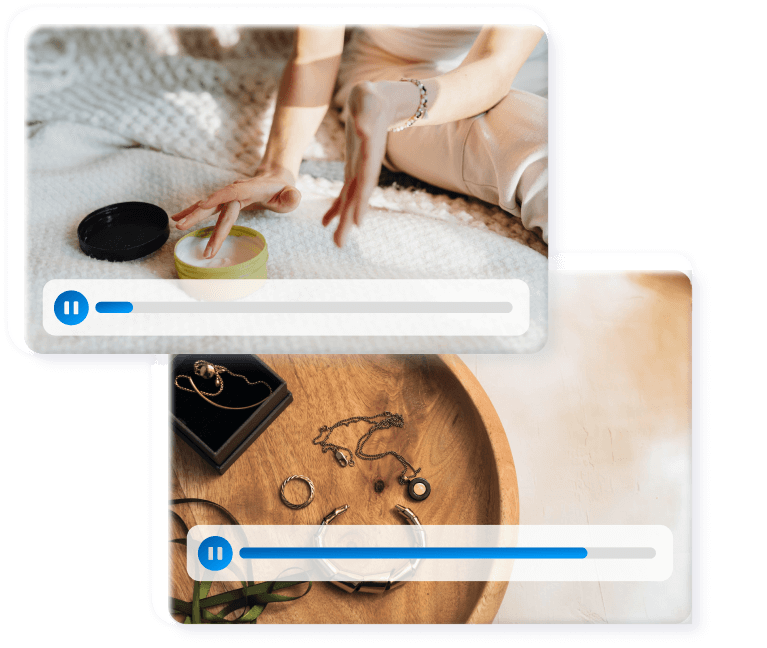 Use Your Cloned Voice for Just About Anything
There's a huge range of potential use cases for your cloned AI voice. This doesn't just mean that it's possible to expand the range of marketing areas your business was hoping to explore — it also means that a one-time investment into cloning your voice can be used again and again in a huge variety of different ways.
Whether you're trying to sell to your users or simply build trust with explainer videos or demonstrations, you can rely on your cloned AI voice to be versatile and robust enough to do the job, no matter what that job happens to be.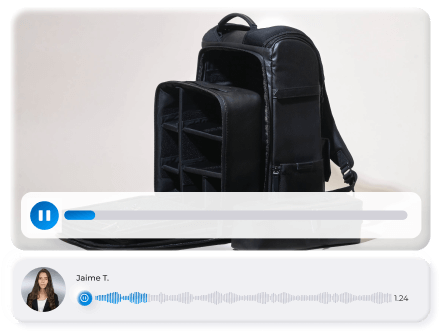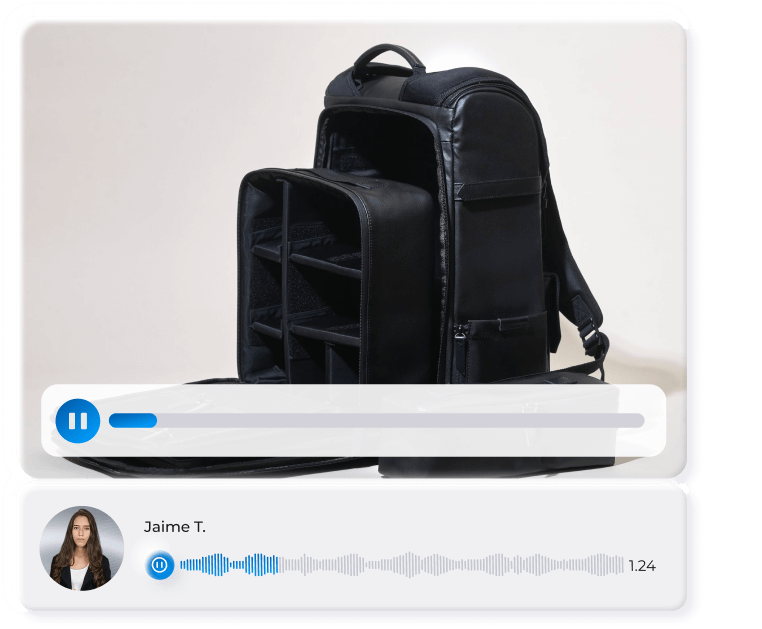 Synthesys Studio's Voice Cloning Service Benefits
Synthesys AI Studio's voice cloning software is packed full of features designed to make it easier than ever to digitally duplicate your voice.
Hyper Realism
The most fundamental aspect of any cloned voice is realism, and that's where Synthesys AI Studio's voice cloning really shines. The finished product will be just about indistinguishable from the way you actually sound when you're speaking, thanks to a wide range of customization options and the top-tier digital processing capabilities we possess at our end.
Your customers won't know it's not really you talking, allowing you to finally say goodbye to those sound-alike AI voices that immediately tarnish any brand's reputation and make for an awkward listening experience.
Accent Preservation
Part of what makes listening to real human voices so special is the unique accent and tonality every one of us possesses. No two people sound truly alike, after all, as anybody will be able to tell you.
That's why we ensured Synthesys AI Studio's voice cloning software was fully equipped with state-of-the-art accent preservation technology, designed to perfectly mimic the individual quirks and personal touches of your own accent.
Rather than flattening out those wonderful elements that make your voice so unique, Synthesys seamlessly replicates them instead, leaning into your own individuality and creating a truly one-of-a-kind voice cloning experience.
Complete Customization
There's no end to the number of factors you can refine and customize to your heart's content with Synthesys AI Studio.
From the tone of your voice itself to its timbre, you can get creative to ensure the finished product accurately reflects how you really sound.
But that's not all — speed can also be tweaked, eliminating any risk of a constant artificial drone and instead creating a pleasant, natural-sounding degree of variation in the pattern and flow of your speech.
How to Clone Your Voice with Synthesys AI Studio?
Cloning your voice couldn't be simpler with Synthesys. There are only two steps you need to follow and you will have your cloned voice ready in under 5 minutes
Record your own voice
The first step is to create a recording of your own voice, no longer than 5 minutes at maximum. You don't need any special recording equipment or fancy microphones, and you don't need to worry about getting every word perfect — we just want your natural voice.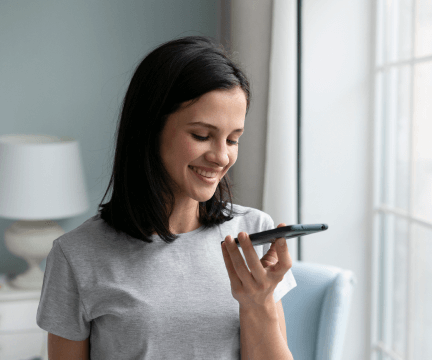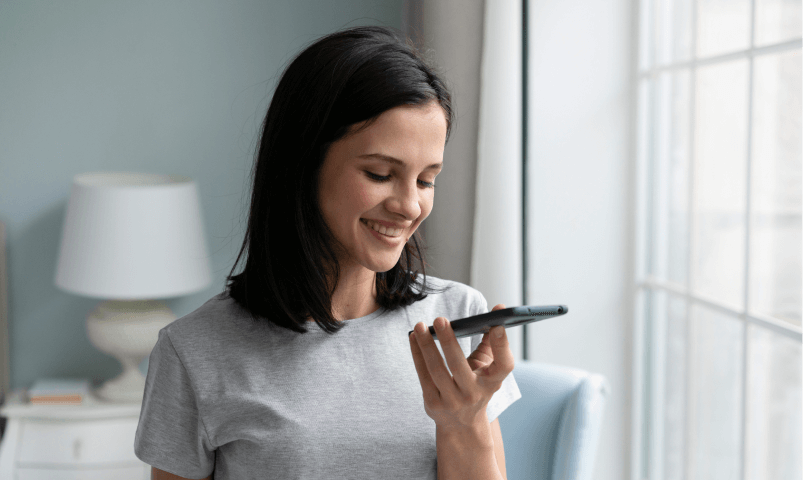 Get the finished product
There's nothing left for you to do now except wait for a few minutes to get the cloned AI voice to your account. Voila, you now have your fully synthetic AI voice ready to use as much as you need to, forever.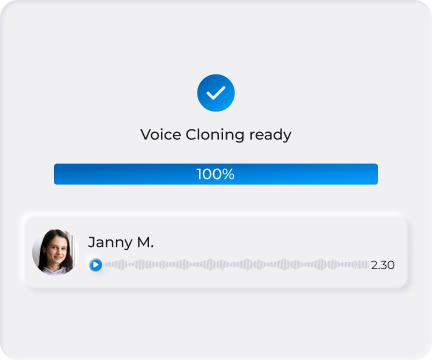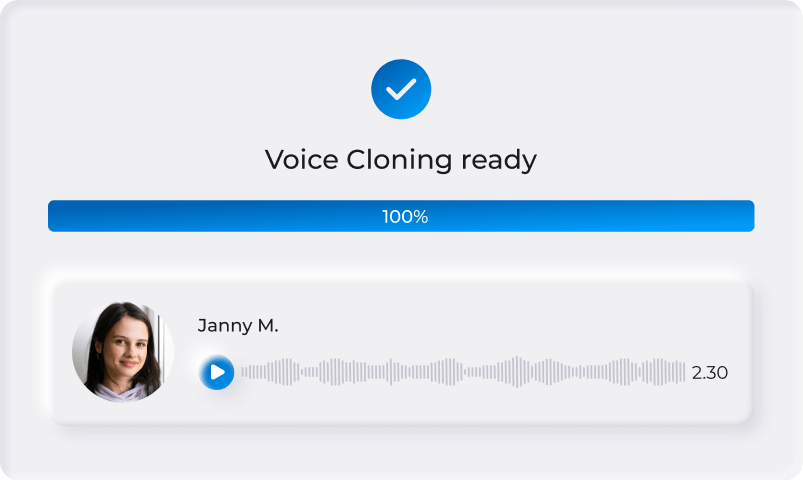 Use Cases for AI Voice Cloning
With Synthesys AI Studio, creating your very own AI avatar couldn't be simpler.
e-Learning Videos
Help your audience understand your material more quickly and easily than ever by using your AI-cloned voice to talk them through every step of the process.
Podcasts
Reduce turnover time for your podcasts and massively cut down on the labor and time spent editing by using an AI-cloned version of your voice instead. From recording to post-production, every step of the process will become more streamlined.
Training Videos
Whether it's external or in-house training for your own employees, videos are a great way to get vital pieces of information across — and cloning your own voice will make these vital pieces of content significantly more memorable for everybody who views them.
Presentations
Spice up your presentations and make sure everybody's really listening by talking through each slide with your very own voice. It's the ideal way to increase engagement and keep people paying attention, no matter how long the presentation may be.
Why Choose Synthesys AI Studio for your AI Voice Cloning?
No Need to Sacrifice Quality
There's no point cloning your voice unless it's going to be truly exceptional — and that's exactly what you get when you choose Synthesys AI Studio.
Our cutting-edge voice cloning technology guarantees an optimal result every single time, so you know you can trust the finished product and use it to enhance your brand's collateral as much as you need to.
Ease of use
The entire process of cloning your voice with Synthesys AI Studio only takes 5 minutes of work from your end. Simply record your voice, send us the file, and wait to get the finished product in return.
Cost-effectiveness
As part of our core mission here at Synthesys AI Studio, we believe that advanced AI technology should be as accessible as possible to as many different businesses and brands as we can manage.
As part of that promise, we're committed to making AI voice cloning as cost-effective as we can, which is why our pricing is so competitive — and our results so impressive!
Security
Security has never been more important than it is in today's day and age. We take the privacy of your data with the utmost seriousness, following industryLeading standards when it comes to how we receive, store, and handle your information in transit.
24/7 Support
Even though Synthesys AI Studio is highly intuitive and user-friendly, it's always good to know somebody's going to be there to help out in case anything happens. That's why we're delighted to announce that we provide 24/7 support — so no matter what happens, you know we'll always be just an email away, any time of day or night.
Make Voice Cloning Today!
FAQ
Do I need any special equipment to record my voice?


No! All you need is a basic microphone so we'll be able to make out the details of your voice and produce the most accurate possible clone. There's no need for anything more fancy or involved than standard equipment.
How long does the process of cloning my voice take?


There's only actually 5 minutes of work required on your end, which is simply recording the target voice with a basic, industry-standard microphone. As for the actual cloning, that process takes one week, but don't worry — we'll be working away at this on our end, and there's nothing more required from you at this point. After we're finished, we'll send you back your synthetic media, and that's the end of the process!
What if I wanted to clone the voice of a team member?


You can clone the voice of anybody you like, so long as you have their express written consent. Often, it can be a good idea to clone the voices of several different team members, allowing you to have an increased amount of variety in your work and helping to enhance the benefits of AI voice cloning.
What languages can I use for cloning my voice?


At present, Synthesys AI Studio's AI voice cloning service is available in English (either US or UK accent). We're always working on expanding our range, however, so make sure to stay tuned and keep up to date with all our latest progress as we continue to provide more tools to make AI technology accessible to everybody!
What is the purpose of voice cloning?


Voice cloning allows you to create dynamic and unique audio content. It can save time and money by allowing you to quickly create new content without having to record each piece individually. It also helps ensure that your brand's message is consistent across all of your marketing materials.
How can you replicate someone's voice?


Replicating voices often involves training a dataset of voice recordings from real-life voice actors to create a neural network. Then, that neural network generates audio clips from text input by users.
Is it legal to use AI voices?


Yes! It's legal to use AI voices, but it's worth noting that creating a voice clone of somebody's voice requires their express written consent.
How much does voice AI cost?


Our voice cloning service is part of any AI Voice subscription voice you choose. If you want to clone an extra voice, you can contact our sales team and learn more.
What is voice cloning?


Voice cloning is the process of using AI to create a digital replica of a person's voice. This can be used to create dynamic and unique audio content without the need for the person in question to physically speak the lines.